Whether you're a trainee or veteran driver, this episode will be the best 30 minutes of entertainment you've heard in a while. Trainer Mike Cline took CFO Bill Wettstein out on the road as a trainee for a week. And the stories are just as good as you're imagining.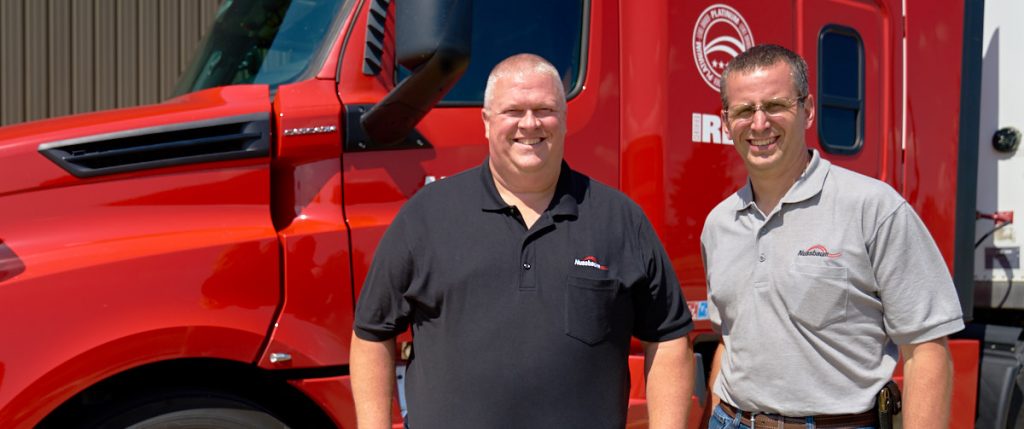 Fresh Off the Asphalt
We caught Bill and Mike for this interview straight from the interstate. Bill's fresh first impressions are cringeworthy, laughable, and unfiltered. Relive the adventure, and share a chuckle or two, with Mike and Bill.
"I told Mike, 'Alright, I'm going to do less than five mistakes here.' And I don't think I got away from the guard shack before I had two…"
From Desk Chair to Driver's Seat
Bill vividly compares and contrasts his daily life in the office to his daily life in the truck cab. And what are his weak points? Even though Bill signs the paychecks at the end of the day, Mike's not afraid to bare the truth.
"Well I think I might have won because at the very beginning of the first day you said, 'Mike, you're the boss.'"
No preamble can do this raw, rushed episode justice – press play for instant entertainment.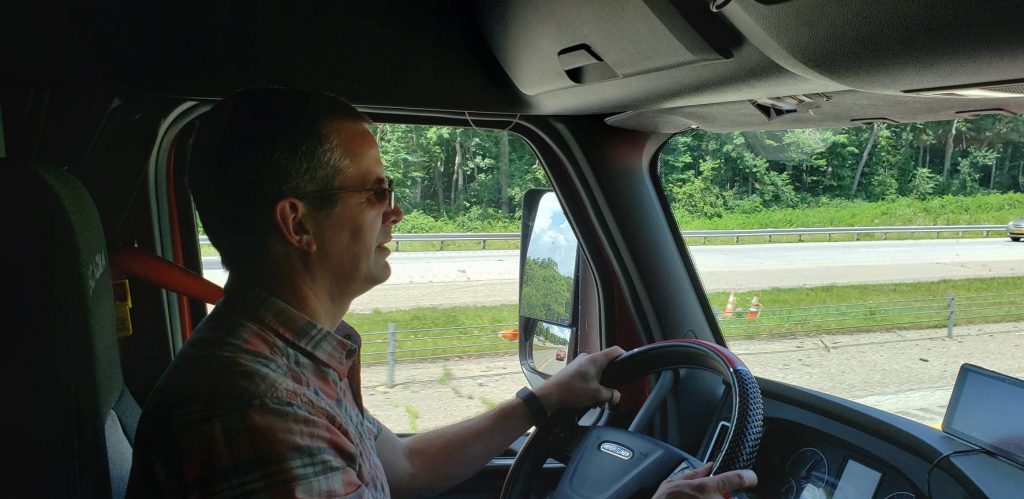 Quotes
"What surprised me was how misunderstood the truck driver is out there. Just dealing with the public."
"Backing – I can do it. I need to get out and look and to pull forward a lot more than anyone else that drives for us does."
"Now, did you hit anything?"
"His lane departure system warning in his truck works quite well… one night, I told my wife, 'If he tells me one more time to stay in my lane, I'm going to scream!'"
"I could feel my whole body stiffen up, and I thought, 'Ok, I'm done with that lane departure warning!'"
"I never got to honk at anyone. It's a pity!"
"We took four weeks of training and crammed it into one." – Mike
"Yeah, we staged that one but the other 999 were not staged."
"I told Mike, 'Alright, I'm going to do less than five mistakes here.' And I don't think I got away from the guard shack before I had two…"
"The one way I figured out how to make Mike be quiet and not coach me is… to… go… slowww…"
"Well I think I might have won because at the very beginning of the first day you said, 'Mike, you're the boss.'"
"I really hope people recognize that. That management does care. It's not us vs. them."
"Mike was in the truck stop, and he told me just to park the truck. I mean seriously, how hard can that be? And I got myself in a jam over there in Lebanon at the Flying J. I got out of it, but my three minutes without him with me proved to myself I'm not ready to roll."
Pics/Video