Between driving a truck, being a driver manager, and serving as a Lieutenant on the local fire department, Brian Johnson has a lot of practical life experience under his belt. He's no stranger to tricky situations, and his no-nonsense "get er' done" attitude is ready to tackle just about anything.
But he also enjoys sending out his daily dad joke and engaging with his "work families" at Nussbaum and the firehouse. And just this year, he participated in a "climb the stairs" memorial event in Indianapolis to honor the brave firefighters who lost their lives on 9/11 (check out the links below for a video!).
Tune in as Brian shares his journey to Nussbaum, stories from the fire department, and a tear-jerking reflection on his day at the 9/11 memorial climb.
Pictures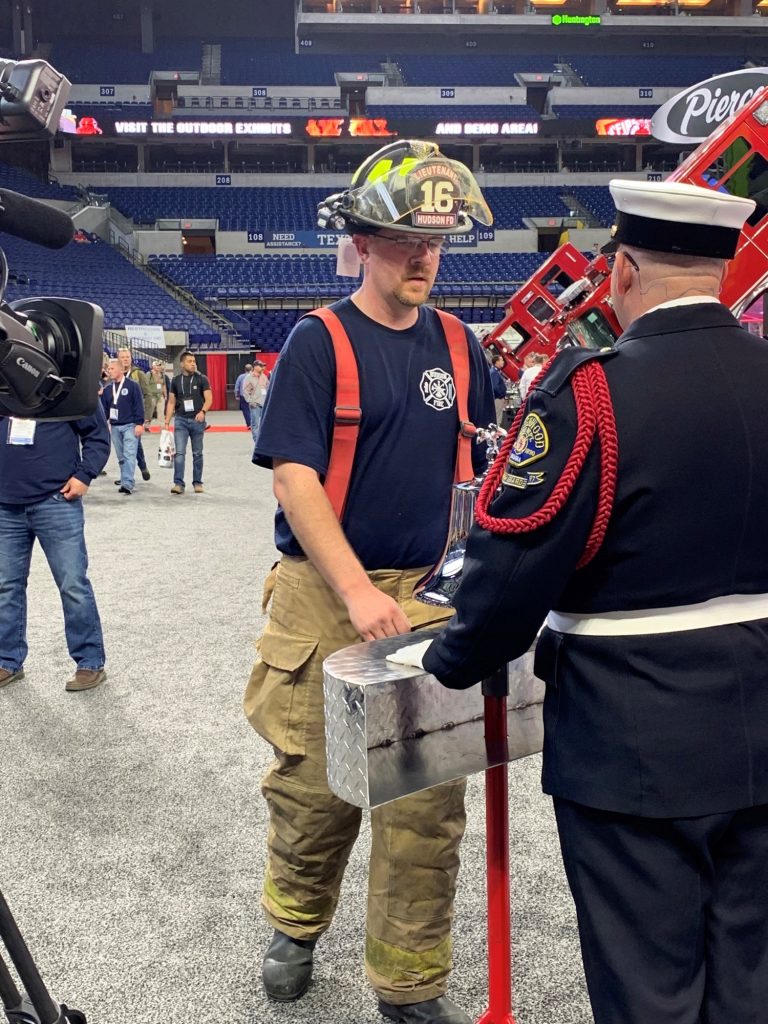 Quotes
"Small towns, that's where I like to be. That's more enjoyable for me."
"I straightened up in high school. I had some wrestling coaches and other teachers who said 'hey, this is what you need to do.' They helped me through it, and we got there."
Saige: "do you send out a dad joke every day?"
Brian: "I do, I've got a group on Microsoft Teams that I send out a dad joke to every day. It's just a way to start the day…..it may not be the funniest thing – it may be something to groan at. But even if you groan at it, it puts a smile on somebody's face."
"One driver came over [to Nussbaum] and we kind of used him as our guinea pig. He called us and said, 'man, you guys gotta come, it's night and day difference.' And it is….it was a complete turnaround from what we were used to."
"You walk in here and you hear laughing, you hear talking….drivers seem like they want to come into the office here and see people. At the last one [company], you stayed out of the office."
"If you've got the time and you live in a small community, go out and join your local fire department!"
"You gotta be ready to see and do anything. Every call is different. In ten years, you can run multiple accident calls, but not every single one is going to be the same. That's kind of what gets the adrenaline pumping for me – 'what are we doing to find when we get there?'"
"Half of the building was on fire….we had seven different departments out there with us. We were out there for about 5 ½ hours before we completely got it out…..it was a long night."
"We came up with the idea to do the Memorial Star Climb. It's 2,200 stairs, 110 flights…..you climb what the firefighters on 9/11 climbed before the buildings collapsed. You sign up and everybody gets a nametag of a firefighter who passed away that day. And you climb for that firefighter."
"It was firefighters, it was friends….it's open to anyone who wants to climb. It was the most painful thing I've ever put my body through, but we made it. It took me just under two hours to do it….it's one of the coolest things I've ever been able to be a part of."
Links
2022 FDIC 9/11 Memorial Stair Climb – YouTube
Jeffrey Joseph Stark – National Fallen Firefighters Foundation (firehero.org)
Homepage | National September 11 Memorial & Museum (911memorial.org)
Best dad jokes: 111 of the funniest one-liners and award-winning dad jokes (goodto.com)
Firefighters battling fire at Green Gables Bar and Grill in Hudson (week.com)
Reader-submitted photos of Green Gables fire | Accident-and-incident | pantagraph.com