Show Notes
Are you ready for the thriller of 2019? We'll dish it out in this episode stocked with specs on Nussbaum's new 2020 Freightliner Cascadias and future gadgets en route. Step aside, Jetson Family, Nussbaum's bringing the future.
Introducing: Road Captains
Your DM is your all-knowing touchpoint – on most things. But we're growing your resources again.
Road Captains are drivers within your shared DM's fleet that will help get new hires up to speed, encourage co-driver interactions, and have answers and advice from years OTR and at Nussbaum.
Consumer Electronics Show in Vegas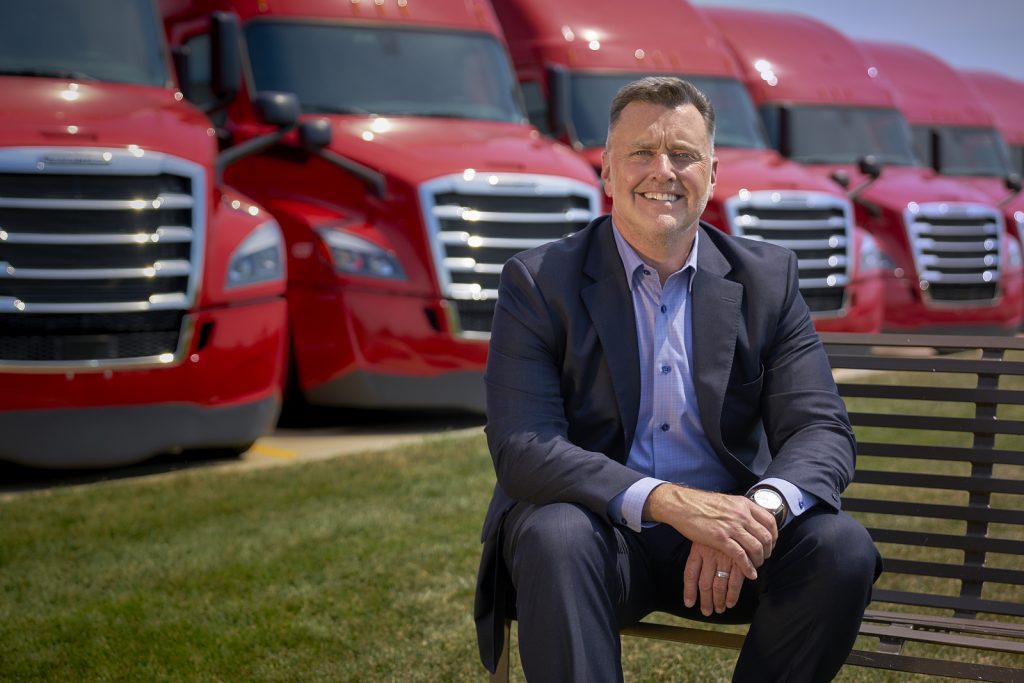 Listen in as Brent Nussbaum divulges on brand new specs and technology coming from Freightliner. Automation may be a touchy subject, but the baby steps inching forward are inarguably fascinating.
We'll talk advancements in adaptive cruise control, steps to fight driver fatigue on windy Wyoming highways, and first-hand experiences with collision mitigation systems.
"We got to ride along, and when you're approaching an object at 40 MPH, and it looks like you're going to crash into it – it's a real eye-opener! I can tell you."
Nussbaum & Daimler Trucks
We've been partnering with Daimler Trucks for years now. At a hefty 400 trucks, our fleet is tiny in comparison to other partners, including Swift/Knight and Conway.
But, boy, are we well known within this circle of big dogs. By sharing information as we test new products and provide feedback, we advance the trucking industry forward and make a name for ourselves.
"He said, 'You need to come and visit the most innovative trucking company in the United States.'"
What's the Future of Nussbaum Equipment?
Yes, fuel mileage is still front and center as we advance our fleet with 100 new trucks this year. But Brent will share some news that might cause some exclamation (of excitement – we hope!).
Don't worry though; we're aligning with where Daimler Trucks is focusing their time and energy – we're ensuring the best.
"Before you fall out of your truck wondering 'What in the world are we thinking?' I just want to let you know that we're preparing for the future."
Quotes
"The truck was fully loaded, 80,000 pounds, and as it got closer to that object, it just absolutely shut that thing down at the last minute about 3- to 4-foot before it hit that stationary object."
"We got to ride along, and when you're approaching an object at 40 MPH, and it looks like you're going to crash into it – it's a real eye-opener! I can tell you."
"I'm not sure how many of you know, but Daimler actually has a little over 40% of the market. No other truck manufacturer has anywhere close to that. There's no one that has any more than 15-16% of the truck market."
"He said, 'You need to come and visit the most innovative trucking company in the United States.'"
"I tell people kiddingly that at some point in time these trucks are going to be idling down the highway at 55 MPH."
"Before you fall out of your truck wondering 'What in the world are we thinking?' I just want to let you know that we're preparing for the future."
"This is going to cause quite a stir, but I hope that you all feel that it's a good decision, I don't think I'll probably get any complaints, and there might be some excitement building behind it."
"Who knows. Maybe one of these days we'll be buzzing down the road at 15 MPG."
Pictures
Links